Additional Resources
National Incident-Based Reporting System (NIBRS)
NIBRS is an incident-based crime reporting system designed to collect data on each single crime occurrence and on each incident and arrest within that occurrence. The most significant difference between NIBRS and the traditional UCR (Uniform Crime Reporting) System is the degree of detail in reporting.
Unlike the summary UCR system that collects data on only eight Part I crimes, NIBRS collects 24 crime categories made up of 52 specific crimes called Group A offenses. In addition to the Group A offenses, there are 10* Group B offense categories for which only arrest data are collected.
*As of January 2011, the FBI no longer collects data on Runaways which was classified as a Group B Offense
The goals of NIBRS are to enhance the quantity, quality, and timeliness of crime data collected by law enforcement and to improve the methodology used for compiling, analyzing, auditing and publishing the collected crime data. A major advantage of NIBRS, beyond the increase in data collected, is the capability to break down and combine crime offense data into specific information.
South Dakota became a NIBRS-only state in 2008. In 2006, the SAC released a new web-based NIBRS available to local law enforcement agencies in South Dakota. South Dakota was originally NIBRS certified by the FBI in early 2001.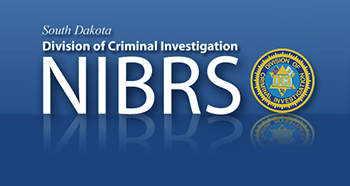 Approximately 95% of the state's population is covered by NIBRS. Crime reporting is voluntary. Several agencies use the web-based NIBRS provided by the SAC. Some agencies have a private vendor for their RMS (records management system) and purchase a NIBRS component. These agencies then export their data and send their data file via email attachment to the SAC where it is then imported into the web-based NIBRS system.
NIBRS Group A Offenses:
NIBRS Offenses
NIBRS Codes
NIBRS Offenses
NIBRS Codes

Animal Cruelty

Arson

720

200

Human Trafficking

-Commercial Sex Acts

-Involuntary Servitude

Kidnapping/Abduction

64A

64B

100

Assault Offenses

Larceny/Theft Offenses

-Aggravated Assault

13A

-Pocket Picking

23A

-Simple Assault

13B

-Purse Snatching

23B

-Intimidation

13C

-Shoplifting

23C

-Theft from Building

23D

Bribery

510

-Theft from Coin-Operated Machine or Device

23E

-Theft from Motor Vehicle

23F

Burglary/B&E

220

-Theft of Motor Vehicle Parts or Accessories

23G

-All Other Larceny

23H

Counterfeiting/Forgery

250

Motor Vehicle Theft

240

Destruction/Damage/Vandalism of Property

290

Pornography/Obscene Material

370

Drug/Narcotic Offenses

-Drug/Narcotic Violations

35A

Prostitution Offenses

-Drug/Narcotic Equip. Violations

35B

-Prostitution

40A

-Assisting or Promoting Prostitution

-Purchasing Prostitution

40B

40C

Embezzlement

270

Robbery

120

Extortion/Blackmail

210

Sex Offenses

Fraud Offenses

-Rape

11A

-False Pretenses/Swindle/ Confidence Games

26A

-Sodomy

-Sexual Assault with An Object

11B

11C

-Credit Card/Automatic Teller Machine Fraud

26B

-Forcible Fondling

-Statutory Rape

11D

36A

-Impersonation

26C

-Welfare Fraud

26D

-Wire Fraud

-Identity Theft

-Hacking/Computer Invasion

26E

26F

26G

Gambling Offenses

Stolen Property Offenses

280

-Betting/Wagering

39A

-Operating/Promoting/ Assisting Gambling

39B

Weapon Law Violations

520

-Gambling Equip. Violations

39C

-Sports Tampering

39D

Homicide Offenses

-Murder/Non-Negligent Manslaughter

09A

-Negligent Manslaughter

09B

-Justifiable Homicide

09C
NIBRSGroup B Offenses:
| NIBRS Offenses | NIBRS Codes | NIBRS Offenses | NIBRS Codes |
| --- | --- | --- | --- |
| | | | |
| Bad Checks | 90A | Liquor Law Violations | 90G |
| | | | |
| Curfew/Loitering/Vagrancy Violations | 90B | Peeping Tom | 90H |
| | | Tresspassing | 90J |
| Disorderly Conduct | 90C | All Other Offenses | 90Z |
| | | | |
| Driving Under the Influence | 90D | | |
| | | | |
| Drunkenness | 90E | | |
| | | | |
| Family Offenses, Non-Violent | 90F | | |