Additional Resources
National Incident-Based Reporting System (NIBRS)
NIBRS is an incident-based crime reporting system designed to collect data on each single crime occurrence and on each incident and arrest within that occurrence. The most significant difference between NIBRS and the traditional UCR (Uniform Crime Reporting) System is the degree of detail in reporting.
Unlike the summary UCR system that collects data on only eight Part I crimes, NIBRS collects 24 crime categories made up of 52 specific crimes called Group A offenses. In addition to the Group A offenses, there are 11 Group B offense categories for which only arrest data are collected.
The goals of NIBRS are to enhance the quantity, quality, and timeliness of crime data collected by law enforcement and to improve the methodology used for compiling, analyzing, auditing and publishing the collected crime data. A major advantage of NIBRS, beyond the increase in data collected, is the capability to break down and combine crime offense data into specific information.
South Dakota became a NIBRS-only state in 2008. In 2006, the SAC released a new web-based NIBRS available to local law enforcement agencies in South Dakota. South Dakota was originally NIBRS certified by the FBI in early 2001. In 2021, the SAC recieved grant funding to implement a new web-based reposotory and public facing protal. The public facing portal gives the general public the ability to acquire crime data statitstics when needed. The reports can be located at: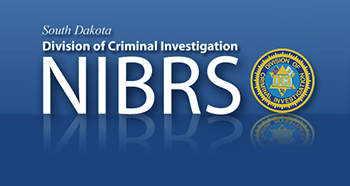 Approximately 95% of the state's population is covered by NIBRS. Crime reporting is voluntary. Several agencies use the web-based NIBRS provided by the SAC. Some agencies have a private vendor for their RMS (records management system) and purchase a NIBRS component. These agencies then export their data and either send their data file via email attachment to the SAC or import into the web-based NIBRS system.